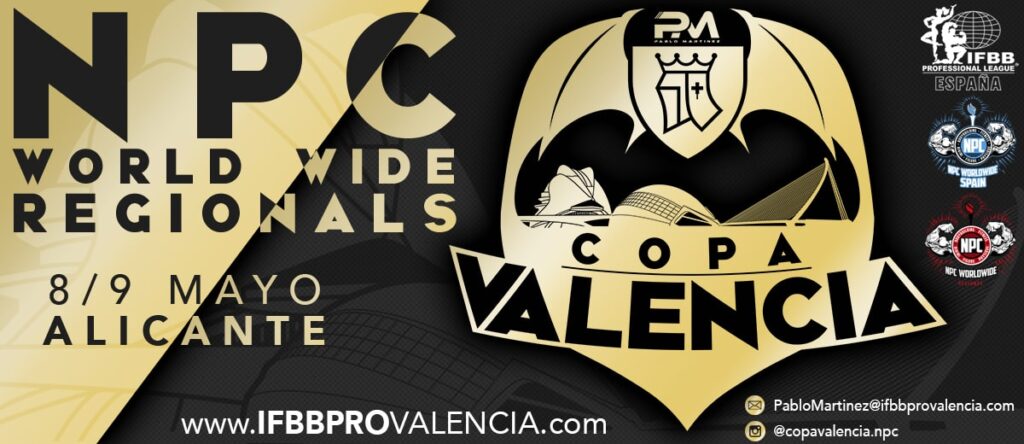 The championship will take place within:
In one of the most impressive locations in our community.
The next edition of the IFBB PRO VALENCIA COPA VALENCIA will be held during the weekend of May 8 and 9 at VB Spaces, the most technological, innovative and futuristic multi-space in Alicante on the Costa Blanca.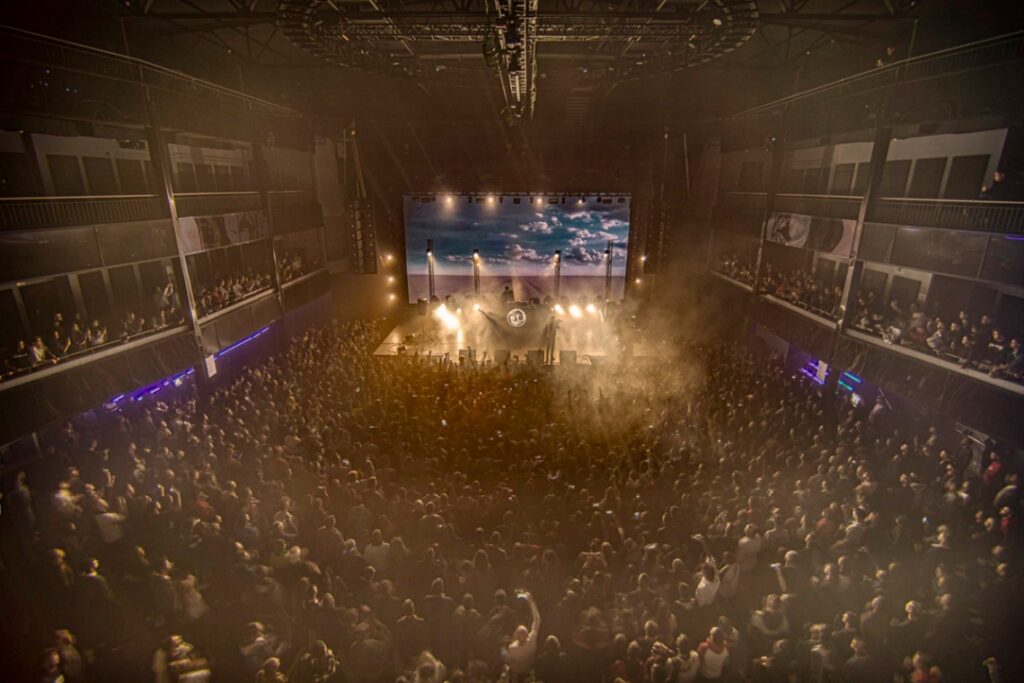 ARECA HOTEL

SPA PORTA MARIS HOTEL

ABBA CENTRUM HOTEL

MAYA ALICANTE HOTEL
Wait no more, the moment is
NOW
Register as an athlete in the main category
Here you can register for the main category, as well as crossover and hire additional services to facilitate your stay on the day of the competition.
Register as an athlete in the category Novice and True beginner
Register in the NOVICE category, and in the TRUE BEGINNER category. We invite you to also register in the main category, you will compete with the best athletes on the international scene.
For Time And Limited Units
Hurry to book your general ticket to get a super reduced price. You have until April 9 or up to 100 tickets to take advantage of the discount.
Also, if you prefer VIP entry and / or Coach Backstage, this is the place.
SATURDAY, MAY 8 - REGISTRATION AND WEIGHING OF ATHLETES
SUNDAY MAY 9 - COMPETITION
DIVISION
CATEGORY
WHEELCHAIR (Silla de ruedas)
Open Class
TRUE BEGINNER - MEN´S BODYBUILDING
Open Class
NOVICE - MEN´S BODYBUILDING
Open Class
| DIVISION | CATEGORY |
| --- | --- |
| MEN´S BODYBUILDING JUNIOR | Open Class |
| MASTERS MEN´S BODYBUILDING - OVER 40 YEARS | Open Class |
| MASTERS MEN´S BODYBUILDING - OVER 50 YEARS | Open Class |
| MASTERS MEN´S BODYBUILDING - OVER 60 YEARS | Open Class |
| DIVISION | CATEGORY |
| --- | --- |
| MEN'S BODYBUILDING - LIGHTWEIGHT | Over 143 ¼ lbs (65 kg) up to and including 154 ¼ lbs (70 kg) |
| MEN'S BODYBUILDING- MIDDLEWEIGHT | Over 154 ¼ lbs (70 kg) up to and including 176 ¼ lbs (80 kg) |
| MEN'S BODYBUILDING-LIGHT-HEAVYWEIGHT | Over 176 ¼ lbs (80 kg) up to and including 198 ¼ lbs (90 kg) |
| MEN'S BODYBUILDING-HEAVYWEIGHT | Over 198 ¼ lbs (90 kg) up to and including 225 ¼ lbs (102 kg) |
| DIVISION | CATEGORY |
| --- | --- |
| TRUE BEGINNER - MEN´S CLASSIC PHYSIQUE | Open Class |
| NOVICE - MEN´S CLASSIC PHYSIQUE | Open Class |
| MASTER - MEN´S CLASSIC PHYSIQUE | Open Class |
| MEN´S CLASSIC PHYSIQUE -CLASS A | Up to and incl. 5`7``/170 cm |
| MEN´S CLASSIC PHYSIQUE - CLASS B | Over 5`7``/ 170 cm up to and incl. 5`10``/178 cm |
| MEN´S CLASSIC PHYSIQUE - CLASS c | Over 5`10``/ 178 cm |
| DIVISION | CATEGORY |
| --- | --- |
| TRUE BEGINNER - WOMEN´S PHYSIQUE | Open Class |
| NOVICE- WOMEN´S PHYSIQUE | Open Class |
| WOMEN´S PHYSIQUE | Open Class |
| WOMEN´S BODYBUILDING | Open Class |
SUNDAY MAY 9 - COMPETITION
| DIVISION | CATEGORY |
| --- | --- |
| FITNESS | Open Class |
| TRUE BEGINNER - WOMEN´S WELLNESS | Open Class |
| NOVICE - WOMEN´S WELLNESS | Open Class |
| WOMEN´S WELLNESS - CLASS A | Up to and inc. 5'4" (163 cm) |
| WOMEN´S WELLNESS - CLASS B | Over 5'4" (163 cm) |
DIVISION
CATEGORY
TRUE BEGINNER - WOMEN´S FIGURE
Open Class
NOVICE - WOMEN´S FIGURE
Open Class
MASTER - WOMEN´S FIGURE
Up to and inc. 5'4" (163 cm)
WOMEN´S FIGURE - CLASS A
Up to and incl.5´4´´/163cm
WOMEN´S FIGURE - CLASS B
Over 5´4´´/163cm
| DIVISION | CATEGORY |
| --- | --- |
| TRUE BEGINNER - MEN´S PHYSIQUE | Open Class |
| NOVICE - MEN´S PHYSIQUE | Open Class |
| JUNIOR - MEN´S PHYSIQUE | Open Class |
| MASTER - MEN´S PHYSIQUE | Open Class |
| MEN´S PHYSIQUE -CLASS A | Up to and incl. 5`7``/170 cm |
| MEN´S PHYSIQUE - CLASS B | Over 5`7``/ 170 cm up to and incl. 5`10``/178 cm |
| MEN´S PHYSIQUE - CLASS C | Over 5`10``/ 178 cm |
| DIVISION | CATEGORY |
| --- | --- |
| TRUE BEGINNER - WOMEN'S BIKINI | Open Class |
| NOVICE - WOMEN'S BIKINI | Open Class |
| JUNIOR - WOMEN'S BIKINI | Open Class |
| MASTER - WOMEN'S BIKINI | Open Class |
| WOMEN'S BIKINI -CLASS A | Up to and including 5' 4" (163 cm) |
| WOMEN'S BIKINI - CLASS B | Over 5`4``/ 163 cm up to and incl. 5`6``/168 cm |
| WOMEN'S BIKINI - CLASS C | Over 5`6``/ 168 cm |